Brief Descriptions of the Key Stages and assessment & reporting information
At Forsan British School we follow the UK international curriculum, which is divided into key stages.  The Key Stages refer to the sets of skills and knowledge a student is aiming to develop at a certain stage in their education. We also incorporate elements of the Egyptian national curriculum with students following classes in Arabic, National Studies, History and Geography and religion.
Each Key Stage is led by a Head of Section (see table below), each one an experienced pastoral leader and a key member of the school leadership team (SLT) together with the Principal and Vice Principal.  This team meets regularly formally and informally so that all have an overview of student progress and concerns across the whole school and by so doing that transition from stage to stage is as efficient as possible.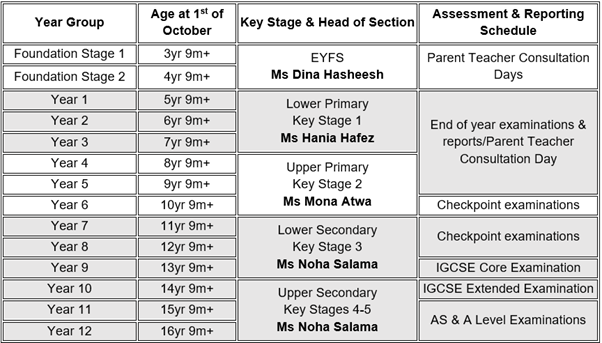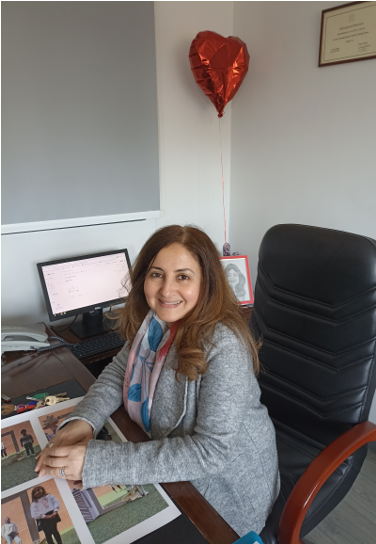 Welcome to Forsan British School. My name is Dina Hasheesh and I lead the team of tutors that look after our students in Years FS1 & FS2, what we call Early Years Foundation Stage (EYFS)
In EYFS students are starting to become more independent as they are moving from playschool to another stage where they start to develop in different ways. All staff in EYFS aim to provide children with different resources that will develop and enrich their personalities, abilities & talents.  Subjects studied include English Language, Mathematics, Arabic, Art & Design, Physical Education, Music, PSHE & Drama. 
Each year group is divided into classes; each class has a maximum of twenty students. Classes are named after flowers: lilacs, sunflowers, tulips and violets!
The majority of lessons are taught by homeroom teachers.  Arabic, Music, Art and Physical Education are also taught by specialist teachers. Students have access to our library, gymnasium, music room, art room and cookery kitchen.
We have our own Foundation Stage playground area, with play equipment and covered areas; in addition, each classroom has access to its own dedicated outdoor space.
A typical day might look like this:
If you are joining FBS for the first time be assured that we will look after you!  We will arrange a programme of induction and assign a buddy/mentor to your son or daughter.
If you need to contact me please do so via
There are a number of extracurricular activities on offer: these include Fitness, Dancing, Art, Origami, Gardening, Etiquette, Clay modelling, Book club, Cooking, Drama and Music.
School trips and excursions include going to the Zoo, Aquarium, Hypermarket & a local farm.
Please find below links to some of the websites we recommend for students and parents in this stage as well as some examples of our students' work and achievements.
To view students' work & class activities:
Forsan British School
https://www.facebook.com/Forsan-British-School-1580914171971772 
Foundation Stage @Forsan British School
https://www.facebook.com/groups/1686130571426747
We recommend these sites for students to enjoy learning
https://www.youtube.com/results?search_query=alphablocks+full+episodes
https://www.youtube.com/results?search_query=alpha+numberblocks+full+episodes
https://www.youtube.com/natgeokidsplaylists
https://www.youtube.com/c/WOWENGLISHTV/videos
https://www.youtube.com/results?search_query=max+%26+ruby+full+episodes+in+english
https://www.youtube.com/results?search_query=peppa+pig+full+episodes+in+english
LOWER PRIMARY STAGE (KEY STAGE 1)
UPPER PRIMARY STAGE (KEY STAGE 2)
LOWER & UPPER SECONDARY STAGES (KEY STAGES 3 - 5)