The strength of our British curriculum is matched by the calibre of our Arabic department, a large, highly qualified team of teachers who deliver Arabic, National Studies and Religion, ensuring that our students have 'the best of both worlds', inspired by the riches of their language, culture and history.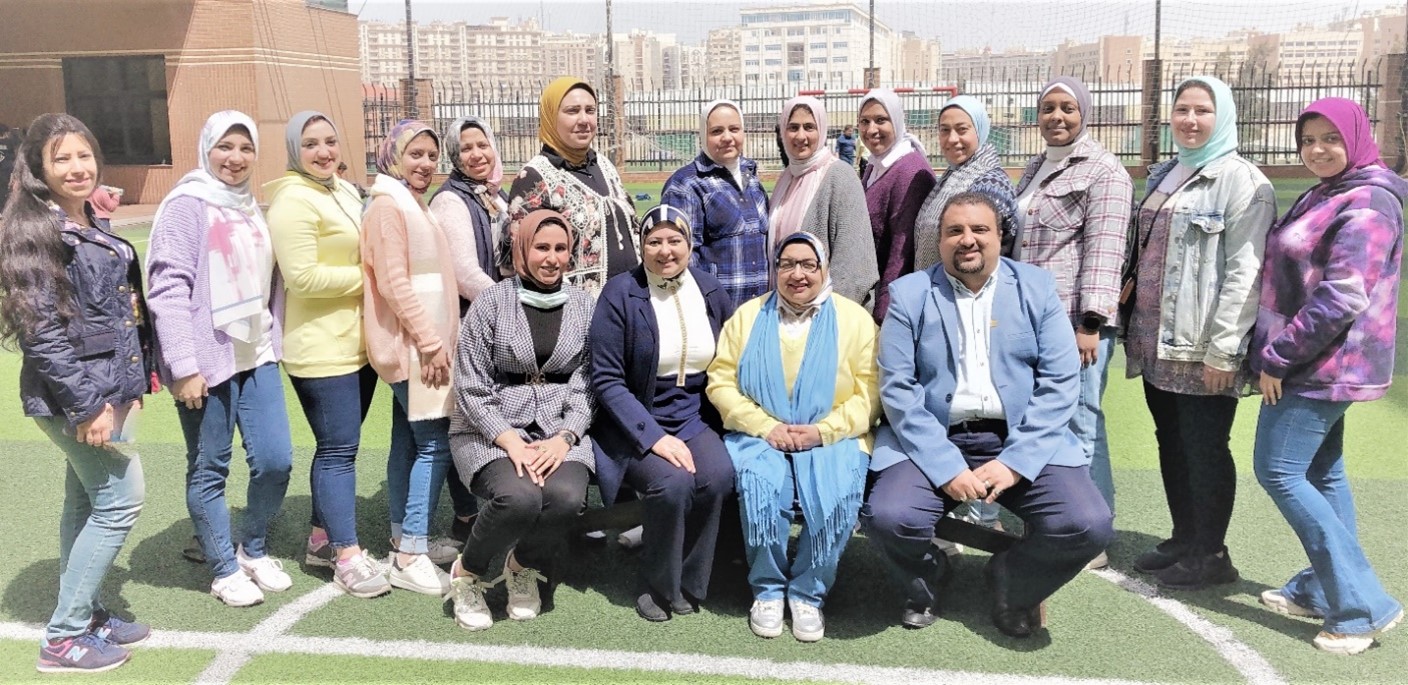 Dept. members
(right to left seated) Mr. Sameh Gaber / Ms. Sarah Abdel Aziz (HOD) / Ms. Youmna Ismail (HOD) / Ms. Aya Nasser
(left to right standing) Ms. Passant Seif / Ms. Tasneem Mostafa / Ms. Nourhan Ibrahim / Ms. Nihal Ibrahim / Ms. Doaa Okasha / Ms. Samar Shehata / Ms. Mayssa Ali / Ms. Rasha Galal / Ms. Mona Mohamed / Ms. Heba Fathy / Ms. Sarah Ramadan / Ms. Dareen Khamis / Ms. Mai Mostafa / Ms. Amani Abdel Fattah
Topics studied
زيادة الحصيلة اللغوية للطفل
التعرف علي حروف اللغة العربية قراءة وكتابة
تهيئة الطفل للتعامل والتفاعل مع المجتمع
أن يتدرب الطالب علي القراءة الصحيحة والنطق السليم.
التعرف علي أساسيات الإملاء وما يمكنه من الكتابة بشكل صحيح.
أن يحسن التعبير عن نفسه في مختلف المواقف.
تنمية عواطف الإيثار والخير والتعاون لدي الطلاب.
Topics studied
حروف اللغة العربية
الأصوات القصيرة والطويلة
مد ألف / واو / ي
أسماء الأشارة (هذا – هذه)
ضمائر المتكلم (أنا – نحن)
ضمائر الغائب (هو – هي)
التاء المربوطة
الشدة
اللام الشمسية
التنوين بالفتح / بالكسر/ بالضم
المفرد والجمع
الفعل الماضي والمضارع
ضمير المخاطب
حروف العطف والجر
أسلوب الأستفهام
أسماء الإشارة للبعيد
أسلوب النهي / النفي / النداء
أقسام الكلمة
الأسماء الموصولة
المثني
المؤنث والمذكر
أسلوب الاستفهام
ياء الملكية
أنواع الفعل
أسلوب التعجب / الأمر
جمع المذكر السالم والمؤنث السالم
جذر الكلمة وعائلة الكلمة
ضمائر المخاطب
أنواع الجموع
الجملة الاسمية والفععلية
لام التعليل
الظرف
تعبير
نصوص
تحليل الكلمات
قصص وأناشيد
Topics studied
أقسام الكلمة
الضمائر
أسماء الإشارة
المثني
أنواع الجمع
الجملة الإسمية والفعلية
إعراب المبتدأ والخبر (مفرد-مثني-جمع)
إعراب الفاعل (مفرد-مثني-جمع)
مطابقة الفعل للفاعل
تحويل الجملة من اسمية لفعلية والعكس
حروف الجر
شبه الجملة
(الجار والمجرور – الظرف)
قصص ونصوص
التعبير
إعراب جمع التكسير
إعراب جمع المذكر سالم والمؤنث
علامات إعراب الفاعل والمفعول به
إعراب المفعول لأجله والمفعول المطلق
إعراب المضاف إليه
نصوص قرأنية وشعرية
أنواع الخبر
كان وأخوتها وأنواع خبر كان وأخوتها
إن وأخوتها وأنواع خبر إن وأخوتها
الأسماء الخمسة وإعرابها
إعراب الفعل المضارع (الرفع-النصب-الجزم)
الأفعال الخمسة وإعرابها
النكرة والمعرفة
النعت والحال
كتب وزارة التربية والتعليم / كتب خارجية مثل: سلاح التلميذ و الأضواء
Enrichment Opportunities & Events
احتفال المولد النبوي / احتفال اليوم العالمي للغة العربية / مسرحية بمناسبة رأس السنة الهجرية / بيت وشاعر