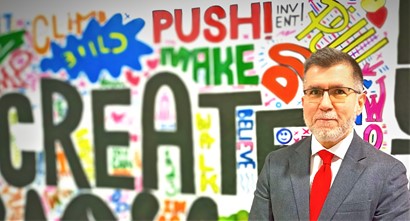 Welcome from the Principal
Hello and welcome!
Whether you are a current, former or prospective parent or student or just curious, welcome to our website and thank you for your interest in us!
Every Principal will tell you that choosing the right school for your son or daughter is one of the most important choices you will ever make; what we offer at Forsan British School makes this, however, one of the safest and most rewarding investments you could ever choose.  Forsan British School offers the best of the English and Egyptian curriculum, delivered by expert and committed staff in safe and state of the art facilities and all backed by the vision and solidity of the Ragab Group and their longstanding commitment to education and the young people of Egypt.
We hope this website gives you some idea of who we are and what we stand for. We work hard to make it as easy to use and as up to date as possible, but your feedback will only help to make it better so please do contact us if you cannot find the information you are looking for here or you want to arrange a tour.  Contact us here for an appointment or phone call: 03-3835380/1/2
Simple Social Media Stream: There is no feed to show or there is a connectivity problem!
Forsan British School is accredited to allow students to study for and sit examinations in their respective national curriculums.
Forsan British School has been accredited by Cambridge Assessment to offer Checkpoint, IGCSE, AS and A Level examinations through to Year 12.

The British Council is our partner in handling the administration of these examinations throughout the academic year as well training our teachers on a variety of courses related to the British Curriculum.

We maintain positive relations with the British Consulate in Alexandria, ensuring that we are kept up to date with developments and opportunities.